Jane Elliott, Youth Support Worker for Seize the Moment, reports on recent involvement of Devon young people in the project.
On Tuesday 26th September a group of six young people aged 18-25 sailed from Bideford to take part in the restoration work at St Helen's on Lundy. The members of the group are all local to North Devon and four of the youngsters had been to Lundy previously on residential visits with the community group Seize the Moment.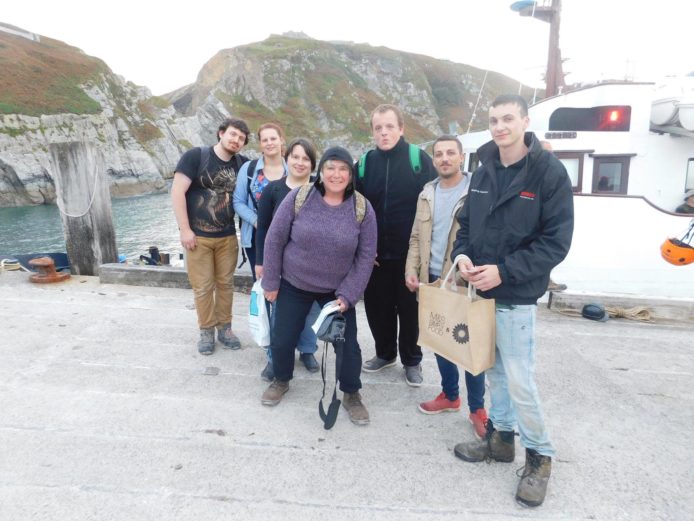 The work we had been asked to do would involve joining the stonemasons 40ft up the scaffold on the church tower to remove crumbling lime mortar and repoint the granite stonework.
For the young people in our party who had not been to Lundy before it was a breath-taking moment as we stepped off the ship to be greeted by seals in the landing bay. We arrived at midday and made our way straight to the church at the top of the Island.
In the past we have made nine residential trips to Lundy staying in the Barn with parties of young people for five days. When the weather has been poor we have spent days in St Helen's using the space for art, film and drama sessions. We were delighted when we heard of the new plans for the church and the four young people who had stayed on Lundy were impressed by the rapid progress made by the team of contractors at the site.
We were taken into the porch and given full protective clothing and a safety briefing. We then ascended the tower.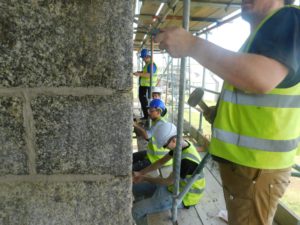 The rest of the day was spent chipping and filling. We were able to talk to the stonemasons about their work and the importance of the project. Matt Morgan explained how beer stone was used around the windows and we were fascinated to see tiny fossils embedded in the stonework above the statue of St Helen.
The time went past very quickly and at 4.30 when the masons told us it was time to stop for the day no one moved and they all wanted to stay. As a reward for the work achieved the young people were then taken up the scaffold to the top of the tower where they could see the new roof and slates being added.
We all agreed this is a brilliant project for Lundy. As we sailed home at dusk the sunset lit up the church standing shrouded in scaffold; the group felt very proud to have been involved and we plan to return.
Seize the Moment is a not-for-profit company of youth workers, young people, artists, musicians, technicians, set up to provide improved access to skills and social opportunities in Torridge and North Devon.